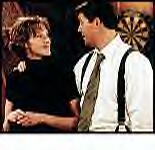 Like many, Joan Cusack found that work provided comfort in the days following the terrorist attacks on the World Trade Center and the Pentagon.
But it wasn't easy. Cusack and her husband, corporate lawyer Robert Burke, lost a friend when the twin towers collapsed.

Joan Cusak (l.) may be laughing on the sitcom 'What About Joan,' but has been privately grieving for a friend lost in the Sept. 11th attacks.
"There's a period of grieving, then you try to find the balance between getting through it and not letting it take over your life," Cusack said. "But, it's not as if you can forget what happened."
The incidents also affected her ABC sitcom, "What About Joan," which launches its second season tonight at 8:30.
Following the disaster, Cusack & Co. shot one episode without an audience, a first for the show. Other ABC shows that week similarly closed their sets to studio audiences.
Likewise, scriptwriters changed a scene in an upcoming episode that would have put Cusack, who plays single schoolteacher Joan Gallagher, on a flight to Green Bay, Wis., with her boyfriend, Jake (Kyle Chandler, "Early Edition"). Instead, the couple will drive, she said.
Getting back to her show has been helpful in moving ahead, she said.
"It's felt nice to work, as though you were taking a little break from thinking about what happened," she said. "I'm so thrilled to get the chance to do a second season on this show. I feel as though I've won the lottery just to have a job in this business."
Tonight's season-opener recounts Gallagher's awkward first date with Jake, who gives the brush-off to a beautiful blond to dine with Gallagher instead.
Cusack said she's particularly proud to play a woman who is sometimes frightened about making a commitment, yet optimistic about love.
"I didn't consider myself at first to be a leading lady because I'd always played the best friend to a glamorous girl who had the boyfriend," she said.
"But, the idea of doing something from a normal girl's point of view appealed to me. I don't want the show to have that heightened sense of reality that sitcoms tend to have. I think audiences have seen a lot of that already."