Early Edition 1st Season Episode Guide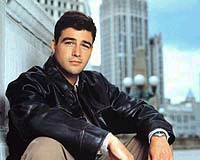 September 28, 1996 - Premiere

Gary Hobson is a stockbroker whose world falls apart when he's thrown out by his wife and given an ultimatum by his boss. His luck begins to change, however, when a mysterious cat brings him a newspaper - with tomorrow's news. At first Gary's advance access to race results and game scores impresses his friends, but when Gary fumbles the opportunity to avert a near tragedy, he discovers his gift's true magnitude and the obligation that comes with it. (Sherman: Milo O'Shea. Marissa: Shanesia Davis. Chuck: Fisher Stevens.)

October 5, 1996 - The Choice

Dual disasters - a plane crash and a girl's hit-and-run death - are slated to occur on the same day at the same time, leaving Gary with a choice impossible to make. (Amanda: Mae Whitman. Marcia: Rya Kihlstedt.)

October 12, 1996 - Baby

Gary's ex-wife, Marcia finds his new confidence appealing and invites him out to dinner. But before he decides how he feels about it, there's another crisis; a terrified Chuck must deliver a baby. (Sheila: Cynthia Nixon. Amy: Jane Krakowski)

October 19, 1996 - The Paper

Gary's investigation into the origins of his special subscription leads him to the offices of a Chicago newspaper, where he learns about his predecessor - and falls for the paper's star reporter. (Leslie Hope, Joe Grifasi)

October 26, 1996 - Thief Swipes Mayor's Dog

In trying to deal with the headline "Thief Swipes Mayor's Dog," Gary befriends Chuck's odd Uncle Phil, who's grieving over his own dog's death. Meanwhile, a $20,000,000 lottery jackpot has Chuck seeing dollar signs.(Mayor Garfield: Max Wright Directed by Susan Seidelman ("Desperately Seeking Susan"))

November 2, 1996 - Hoops

After Gary learns a high-school basketball star (Sharrieff Pugh) has a life-threatening condition, he jumps through hoops to convince him to stay on the sidelines. Meanwhile, Marissa is reunited with an old flame (Michael Warren). William Gates and Arthur Agee ("Hoop Dreams") have cameos.

November 9, 1996 - After Midnight

Two newspaper stories, one about an abandoned baby and one about a young woman's suicide, lead Gary to a desperate teen mother (Virginia Keehne) who will go to any length to support her child.

November 16, 1996 - Gun

Gary's efforts to prevent a child's shooting death lead him to befriend a divorced mother (Ashley Crow) of two, who keeps a gun in her house to protect herself from her abusive ex-husband. Bryce: Mason Gamble. Tommy: Joe Bianchi. Ms Flaste: Mary Beth Fisher.

November 23, 1996 - His Girl Thursday

A love struck Meredith Carson (Leslie Hope) returns to Gary's life, and the two strike up a tentative romance after she makes a solemn promise not to sneak peeks at the paper. But it's a temptation that proves too hard for her - and for Chuck - to resist. Boswell: James Deuter.

December 7, 1996 - The Wrong Man

Gary tries to be gracious after learning that his ex-wife, Marcia (Rya Kihlstedt), is remarrying, even after he discovers the identity of her fiance. But a problem involving a troubled former co-worker could put an end to Marcia's romance - for good. Roger Harrison: Time Winters. Mr. Pritchard: Marc Vann. Sam: Jim True. Mr. Roberts: Ned Schmidtke.

December 21, 1996 - Christmas

On Christmas Eve, Gary tries to prevent a public bombing, but has a jolly tough time convincing the police that there's a problem. Meanwhile, Chuck's holiday turns not-so-merry when he's arrested for being a scofflaw and thrown in jail - with a big guy (M. Emmet Walsh) in a red suit. Det. Crumb: Ron Dean.

January 11, 1997 - Frostbit

Even with Chicago in the middle of a deep freeze, Gary can't justify to himself taking a day off from helping others - until he rescues one too many ingrates. Street Kid: Jonathan Tucker. Pete: Ken Bradley.

January 25, 1997 - Mob Wife

When the paper predicts a mob hit, Chuck tries to convince Gary to steer clear. But Chuck's plan goes off course when he falls for the intended target - a wise guy's girl (Pauley P.) Frank Peretti: Leo Rossi, Kellaher: Neil Flynn

February 1, 1997 - The Wall Part One

Gary attracts the suspicions of a Secret Service agent who's covering security for an upcoming Presidential visit. But Gary's got other things on his mind: he's just learned his predecessor was somehow involved in the Kennedy assassination. Hawks: Joe Grifasi

February 8, 1997 - The Wall Part Two

Conclusion. Suspected of killing Hawks, Gary tries to prove his innocence by establishing the identity of Kennedy's real assassin. Hanratty: Lou Rawls. Dobbs: Josef Summer.

February 22, 1997 - Bat Masterson

Gary befriends a former cop (Philip Bosco) who believes he's Bat Masterson. Trouble is, "Bat" is itching for a showdown with the man he thinks killed his partner 10 years ago.

March 8, 1997 - The Jury

Eleven angry people---and Gary---serve as jurors in the trial of an ex-con charged with embezzlement. But an accidental glimpse at the early edition causes Gary to learn something about the case his sequestration prevents him from acting on.

April 12, 1997 - Psychic

After Gary saves her life, a phony clairvoyant (Kathy Najimy) tries to recruit him for her "business." But he has a hunch she's more than she seems when they both learn - in different ways - that a child is in danger.

April 13, 1997 - The Cat

The cat's illness leads Gary to a veterinarian's office. There, he befriends the doctor's mother, a fun-loving globe-trotter (Marion Ross) whose cheery disposition belies a dark secret. Roger Ebert has a cameo. Dr. English: Talia Balsam

April 19, 1997 - Phantom At The Opera

Gary saves the life of a museum employee and falls in love at first sight. But just as the relationship is getting underway, the paper reveals that the woman will be reunited with her long-lost love--leaving Gary to ponder whether he should alter fate for his own self-interest. Emma: Adrienne Shelley

April 26, 1997 - Faith

A head injury lands Gary in the hospital, where he winds up trying to help a teen (Emily Ann Lloyd) awaiting a transplant. Meanwhile, Chuck takes over Gary's heroics.

May 3, 1997 - Dad

Gary's newly retired dad (William Devane) delights in helping prevent bad news.

May 17, 1997 - Love Is Blind

Gary races to save World Champion figure skater Tara Lipinski (as herself) from being injured in a skating mishap. Later, Gary tries to prevent Marissa's psychology professor (Patricia Kalember) from being killed in a bomb blast, but soon finds the professor in yet another life threatening situation. The attempted murders turn out to be linked to Marissa's study partner (Jeffrey Sams), with whom she has fallen in love.