Early Edition 2nd Season Episode Guide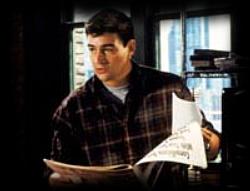 September 27, 1997 - Home

As the story opens, the hotel room where Gary has been staying is damaged in a fire of mysterious orgin. Thinking his enigmatic cat may be to blame, Gary tails the creature and winds up at McGinty's pub. It's Gary's favorite hangout and , as his prophetic newspaper reveals, it's set to be torn down by a heartless land developer named Barney Kaddison (Alex Rocco). That concerns our hero, who soon has even more reason to be dismayed: Kaddison's also planning to raze an orphanage - and three of its young residents are desperate to save it. (Miss Jean: Sandra Thigpen. Mona: Liz Vassey).

October 4, 1997 - The Medal

Gary tries to prevent the suicide of a Medal of Honor winner (Lou Gosset Jr.) tortured by memories of his tour in Vietnam and unable to share his feelings with his family. Meanwhile, Chuck romances the daughter of his seafood supplier.

October 11, 1997 - The Wedding

Gary and Chuck are asked to cater the wedding of Gary's former sweetheart (Cari Shayne), a woman who, according to Gary's paper, will be murdered on her wedding day. (Stan: Brian McNamara, Father Mark: Tim Grimm, Uncle Bob: James Handy)

October 18, 1997 - Jenny Sloan
Gary tries to encourage a cancer-stricken boy who's refusing to undergo chemo by introducing him to a young woman whose battle with brain cancer has made her a celebrity. (Howard Banner: John Spencer)
October 25, 1997 - Downsized
A man facing a midlife crisis decides to have plastic surgery; Chuck searches for a picture of himself for a magazine cover story.
November 01, 1997 - Angels and Devils
After she helps Gary prevent a gang-related robbery, a savvy nun (Nia Peeples) questions her vocation.
November 08, 1997 - Redfellas
An article printed in Russian leads Gary to a beautiful violinist and an assassination plot.
November 15, 1997 - March in Time
Gary reads that a skinhead leader will be assasinated during a much-publicised march.
2.09: A Regular Joe. Stressed-out Gar goes straight to the sports section, where he learns an aging football star will be critically injured. Sat 22 Nov 1997, 9pm
2.10: A Bris is Just a Bris. Chuck falls for a rabbi and feels compelled to confess; heroics hinder a romance. Sat 20 Dec 1997, 9pm
2.11: A Minor Miracle. Gary tries to prevent a little girl's death and becomes a suspect in her disappearance. Sat 10 Jan 1998, 9pm
2.12: Romancing the Throne. A privacy-seeking princess stows away in Gary's car while he is off averting tragedy. Sat 17 Jan 1998, 9pm
2.13: Walik, Don't Run. Thinking they can buy him, corrupt politicians offer Gary a county supervisor's job. Sat 24 Jan 1998, 9pm
2.14: The Return of Crumb. Gary learns that someone wants to tarnish the reputation of soon-to-retire Detective Crumb. Sat 31 Jan 1998, 9pm
2.15: Mum's the Word. Gary rushes dying Marissa to Chicago Hope after she succumbs to an ancient Egyptian curse. Sat 04 Apr 1998, 9pm
2.16: Where or When. A 1944 newspaper has a picture of a woman who haunts Gary's dreams; then she is hired at McGinty's. Sat 11 Apr 1998, 9pm
2.17: The Fourth Carpathian. His parents are custodians of tomorrow's news when Gary mysteriously disappears. Sat 18 Apr 1998, 9pm
2.18: The Quality of Mercy. Gary saves the life of an ex-con out for revenge against the prosecutor who put him away. Sat 25 Apr 1998, 9pm
2.19: Show Me the Monet. An art forger's past catches up with him when his picture winds up in the newspaper. Sat 02 May 1998, 9pm
2.20: Don't Walk Away, Renee. Thugs seeking a research disk take Gary's parents (William Devane, Tess Harper) hostage when he becomes involved with a computer programmer. Sat 09 May 1998, 9pm
2.21: Hot Time in Old Town. Gary tries to prevent the Chicago fire and meets Rod Serling. Sat 16 May 1998, 9pm
Ep #

Episode Title

Brief Description
Writer
Director
Original
Air Date
01
1-1
Pilot
A down-on-his-luck stockbroker discovers he's getting tomorrow's Sun-Times... and a cat. A bank robbery endangers Marissa's life.
Teleplay by:
Bob Brush,
Ian Abrams

Story by:
Patrick Q. Page,
Vik Rubenfeld,
Ian Abrams

Michael Dinner
September 28, 1996
02
1-2
The Choice
Gary must choose -- save a little girl or stop a plane crash.
Bob Brush,
John Romano
Michael Dinner
October 5, 1996
03
1-3
Baby
Gary gets distracted by a mysterious blonde. Chuck is to deliver twins.

Bob Brush,
Alex Taub

Randall Zisk
October 12, 1996
04
1-4
The Paper
Gary tries to prevent a saucy reporter, Meredith Carson, from finding out his secret.
Bob Brush,
John Romano
Michael Nankin
October 19, 1996
05
1-5
Thief Swipes
Mayor's Dog
Someone wants revenge against the Mayor's dog.
Gary uncovers a lottery scheme.
Bob Brush,
Robert Rabinowitz,
John Romano
Susan Seidelman
October 26, 1996
06
1-6
Hoops
Gary helps a high-school basketball star with a medical condition.
Chuck buys a car. Marissa meets an old flame.
Bob Brush
Rick Rosenthal
November 2, 1996
07
1-7

After Midnight

A woman abandons her baby. Chuck falls in love with a cab-mate.

Deborah Joy LeVine

Michael Toshiyuki Uno
November 9, 1996
08
1-8
Gun
Gary gets between a woman and her violent ex while trying to prevent a handgun death.
Robert Rabinowitz,
Alex Taub
Jace Alexander
November 16, 1996
09
1-9
His Girl Thursday
Chuck and Meredith steal Gary's paper with disastrous results.
Jeff Melvoin
Stephen Cragg
November 23, 1996
10
1-10
The Wrong Man
Gary must prevent the murder of his former boss.
Marcia becomes engaged.
Alex Taub
David Jones
December 7, 1996
11
1-11

Christmas

Chuck escapes jail with Santa. Gary tracks down a teddy-bear bomber.

Bob Brush

Daniel Attias
December 21, 1996
12
1-12
Frostbit
Chuck saves Gary and a homeless boy from freezing to death.
Alex Taub,
Deborah Joy LeVine,
Bob Brush
Lee Bonner
January 11, 1997
13
1-13
Mob Wife
Chuck falls in love with a mobster's girl.
Dusty Kay,
Norman Morrill,
Alex Taub
Rick Rosenthal
January 25, 1997
14
1-14
The Wall, Part 1
Secret Service guy suspects Gary of foul play.
Bob Brush
Michael Dinner
February 1, 1997
15
1-15
The Wall, Part 2
Both the police and tomorrow's paper accuse Gary of attempted assassination.
Bob Brush
James Quinn
February 8, 1997
16
1-16
Bat Masterson
A former cop sets out to find his partner's killer.

Dusty Kay

Rick Wallace
February 22, 1997
17
1-17
The Jury
Gary gets jury duty, tries to prove the defendant is being framed.
Teleplay by:
Norman Morrill

Story by:
Norman Morrill,
Matt Dearborn

Stephen Cragg
March 8, 1997
18
1-18
Psychic
Gary and a psychic help find a kidnapped baby.
Alexander J Taub,
Gina Wendkos
Mel Damski
April 12, 1997
19
1-19
The Cat
The cat starts delivering the Paper to a dying woman.
Norman Morrill
Daniel Attias
April 13, 1997
20
1-20
Phantom At
The Opera
Gary falls for an artist, soon to be reunited with an old love.
John J Sakmar,
Kerry Lenhart
Jan Eliasberg
April 19, 1997
21
1-21
Faith
While in the hospital, Gary befriends a girl waiting for a new heart.
Bob Brush
John Kretchmer
April 26, 1997
22
1-22
Dad
Gary's dad comes for a visit and "helps" with the Paper.
Alex Taub,
Bob Brush
Randy Zisk
May 3, 1997
23
1-23
Love is Blind
Gary suspects Marissa's study partner of attempted murder.
John J Sakmar,
Kerry Lenhart
Michael Lange
May 10, 1997
24
2-1
Home
Gary's hotel room burns down. a greedy developer plans to turn an orphanage into a parking lot... along with the gang's favorite hangout-McGinty's.
H. Wiggins
Mel Damski
September 27, 1997
25
2-2
The Medal
A ceremony in his honor triggers years' worth of guilt and flashbacks in a Vietnam hero. Chuck falls in love.
Sean Clark
Daniel Attias
October 4, 1997
26
2-3
The Wedding
Gary and Chuck are asked to cater the wedding of Gary's former high-school sweetheart.
Carla Kettner
James Quinn
October 11, 1997
27
2-4
Jenny Sloane
A cancer-stricken boy refuses to undergo treatment.
Alex Taub
Gary Nelson
October 18, 1997
28
2-5
Downsized
A man facing a mid-life crisis decides to have plastic surgery.
Nick Harding
Mel Damski
October 25, 1997
29
2-6
Angels and Devils
A nun running a night basketball program considers leaving her order when one of her "kids" is killed in a robbery attempt.
Sean Cholodenko
Gary Nelson
November 1, 1997
30
2-7
Redfellas
A Russian violinist is plagued by a series of suspicious accidents.
Carla Kettner
John Kretchmer
November 8, 1997
31
2-8
March in Time
Gary faces a moral dilemma when he learns of a white supremacist's impending assassination.
Randy Feldman
Robert Ginty
November 15, 1997
32
2-9
A Regular Joe
A stressed-out Gary takes Sundays off, helps the Bears. Chuck and Marissa clash over the running of McGinty's.
Jeff Melvoin
Mel Damski
November 22, 1997
33
2-10
A Bris is Just a Bris
Chuck turns truthful when he is smitten with a Rabbi. Gary comes between his cook and an accident-prone librarian.
Alex Taub
Scott Paulin
December 20, 1997
34
2-11
A Minor Miracle
Gary tries to prevent a little girl's death and becomes a suspect in her disappearance.
Randy Feldman
Jim Charleston
Januray 10, 1998
35
2-12
Romancing the Throne
A bored princess hides out at McGinty's.
Carla Kettner
Gary Nelson
January 17, 1998
36
2-13
Walk, Don't Run
Gary accepts a post as City Supervisor to get a traffic light built.
Sean Clark
Richard Heus
January 24, 1998
37
2-14
The Return of Crumb
A soon-to-retire Crumb becomes the target of a ruthless D.A. out to prove police corruption.
Randy Feldman
Gary Nelson
January 31, 1998
38
2-15
Mum's the Word
Marissa is cursed by earrings stolen from a mummy exhibit by her new boyfriend.
Robert Masello
John Patterson
April 4, 1998
39
2-16
Where or When
Gary has a "Rear Window" experience while confined to a wheelchair.
Shannon Dobson
David Crossman
April 11, 1998
40
2-17
The FourthCarpathian
Gary disappears and the paper is delivered to his parent's house.
Alex Taub
Gary Nelson
April 18, 1998
41
2-18
The Quality |of Mercy
An ex-con is determined to kill the prosecutor who put him away.
David T Levinson
Fisher Stevens
April 25, 1998
42
2-19
Show Me The Monet
An art forger wants help breaking into a museum to return a stolen masterpiece.
Nick Harding
Mel Damski
May 2, 1998
43
2-20
Don't Walk
Away, Renee
Thugs kidnap Gary's parents to force him and a childhood friend to turn over a revolutionary computer program.
Sean Clark,
Alex Taub
Gary Nelson
May 9, 1998
44
2-21
Hot Time in
the Old Town
Gary gets hit on the head and goes "back in time" to prevent the Great Chicago Fire.
Carla Kettner
Gary Nelson
May 16, 1998
45
2-22
Second Sight
Marissa thinks her sight is returning. Chuck discovers the victim of a mob murder and becomes a hunted man.
H. Wiggins
Daniel Attias
May 23, 1998
46
3-1
Blackout
A blackout engulfs the city. Gary must prevent mob violence. Patrick, the new bartender, helps out.
Star Frohman
Gary Nelson
September 26, 1998
47
3-2
Collision
Gary tries to locate the driver responsible for a multiple car pile-up. Erica and Henry Paget arrive on the scene.
Alex Taub
Randy Zisk
October 3, 1998
48
3-3
A Horse
Is A Horse
Henry discovers the Paper's secret, helps his dad pick winning horses.
Carla Kettner
Lee Bonner
October 10, 1998
49
3-4
Lt. Hobson, U.S.N.
An Admiral notices Gary's heroism. Henry meddles in world politics.
Sean Clark
Mel Damski
October 17, 1998
50
3-5
Saint Nick
Gary must confront his feelings for Erica when her old flame, a philanthropist, comes to town.
Jeff Melvoin
Jim Quinn
October 24, 1998
51
3-6

Halloween

Two witches kidnap Gary, thinking he's a warlock. poisoned treats are passed out to the children.

Bob Brush

Gary Nelson
October 31, 1998
52
3-7
Up Chuck
A desperate Chuck comes back to town trying to convince Gary that he's hit the big time.
Alex Taub
David Grossman
November 7, 1998
53
3-8
Deadline
Gary enlists the help of reporter Molly Greene to save an innocent man on death row.
Sean Clark
Scott Paulin
November 14, 1998
54
3-9
In Gary We Trust
Gary's life is in danger after he witnesses a mob hit. Toni Brigatti becomes his protector.
Carla Kettner
Ian Barry
November 21, 1998
55
3-10
Nest Egg
Gary's mother invests the retirement money with a con artist.
Alex Taub,
Sean Clark
Gary Nelson
December 5, 1998
56
3-11
Teen Angels
When the newspaper arrives in tatters, Gary must pose as a substitute teacher to find out who will be involved in a shooting.
Laura Doyle
James Quinn
December 19, 1998
57
3-12
Slippity-Doo-Dah
Gary's efforts to prevent a woman's fall on ice could snowball into a deadly bus crash. Gary baby-sits Henry.
Carla Kettner
Fisher Stevens
January 9, 1999
58
3-13
The Last
Untouchable
A retired treasury agent believes Al Capone's last living henchman can lead him to the mobster's long-lost fortune.
Sean Clark
Randy Roberts
January 16, 1999
59
3-14
Just One of
Those Things
Gary tells Erica about the paper, but she refuses to believe him. A girl gets trapped in an old refrigerator.
Alex Taub
Gary Nelson
February 6, 1999
60
3-15
Funny Valentine
A baseball player decides to stay in Chicago after falling in love with a doctor. Marissa meets a new guy-Emmett Brown.
Jeff Melvoin
Adam Nimoy
February 13, 1999
61
3-16
Number One
With A Bullet
A rap artist will be mortally wounded at his upcoming concert.
Attica Locke
David Petrarca
February 20, 1999
62
3-17
Two To Tangle
A couple are involved in a bitter dispute over their lingerie company. Henry and their daughter become friends.
Rick Mittleman
Jim Quinn
February 27, 1999
63
3-18
Fate
Gary questions his involvement with the paper after failing to rescue a homeless man during an apartment fire. Gary reads his own obituary.

Carla Kettner

Gary Nelson
March 20, 1999
64
3-19
Crumb Again
Federal Agent Brigatti tries to track down the person responsible for the attempted murder of Retire Police Detective Crumb.
Sean Clark
Mel Damski
April 3, 1999
65
3-20
Pinch Hitters
Gary is in quarantine after being bitten by a monkey. Marissa and Emmett (who is learning to be a lawyer) take care of the paper for the day.
Dan Freudenberger
Tod Pfeiffer
April 17, 1999
66
3-21
Home Groan
Gary returns to his hometown to catch two thieves and gets in trouble with the local police.
Alex Taub
Scott Paulin
May 1, 1999
67
3-22
Play It Again, Sammo
Sammo Law follows a criminal to Chicago.
Sean Clark
Gary Nelson
May 8, 1999
68
3-23
Blowing Up Is
Hard To Do
Gary saves Detective Armstrong's wife from drowning, prevents a series of bombs. Gary and Erica have "relationship" troubles.
Jeff Pinkner,
Carla Kettner
David Grossman
May 15, 1999
69
4-1
The Out-of-Towner
Gary meets a New Yorker who has been getting tomorrow's Daily News for the past six years but who uses the paper to make money.
Alex Taub
Gary Nelson
September 25, 1999
70
4-2
Duck Day Afternoon
Gary's parents unexpectedly show up after a tornado sweeps through Hickory, but their extended visit leads to a hostage situation. Gary's efforts to save ducks gets the attention of Sun-Times photo-journalist, Miguel Diaz.
Carla Kettner
Randy Roberts
October 2, 1999
71
4-3
Take Me Out To
The Ball Game
Chuck returns and learns that a rookie pitcher for the Cubs is going to throw a no-hitter. But the story disappears when Chuck secures tickets to the game.
Sean Clark
Reza Badiyl
October 9, 1999
72
4-4
The Iceman Taketh
Gary and Detective Brigatti go undercover as a high-society couple with the hope of catching a legendary jewel thief. Gary and Brigatti are forced to spend some days and nights together.
James Stanley,
Dianne
Messina Stanley
Scott Paulin
October 16, 1999
73
4-5
Camera Shy
Gary inadvertently gets Miguel fired... twice. Miguel's accidental snapshot of a thought-to-be-dead criminal may cost him his life.

Eric Tuchman

Reza Badiyil
October 23, 1999
74
4-6
Wild Card
Gary's attempts to relax with the newspaper backfire when Patrick's interference keeps changing the news, finally putting him in a life-threatening situation at a Halloween rave party.
Josh Applebaum,
Andre Nemec
Kevin Dowling
October 30, 1999
75
4-7
Fatal Edition Part 1
Gary is arrested for the murder of an investigative reporter. He was trying to save the reporter's life, but arrived too late after the paper printed the wrong time of death.
Jeff Pinkner
Gary Nelson
November 6, 1999
76
4-8
Fatal Edition Part 2
Brigatti, now believing that Gary is innocent in the death of a reporter, is in danger herself when she discovers new evidence.
Doris Egan
Gary Nelson
November 13, 1999
77
4-9
Weathergirl
Gary supplies accurate weather reports to a forecaster he has begun dating. Uncle Phil takes one job after another and gets himself into trouble.
Alex Taub
Mel Damski
November 20, 1999
78
4-10

Run, Gary, Run

Gary must race against the clock to save Marissa from being killed while crossing the street.

Carla Kettner

Scott Paulin
December 18, 1999
79
4-11
Rose
Gary, along with private investigator Crumb, attempts to help Rose, a woman who claims to be suffering from amnesia.

Lorin Wertheimer

Julia Rask
February 19, 2000
80
4-12
Snow Angels
A blizzard hits Chicago and Gary worries that he won't be able to rescue everyone who needs his help.

Josh Appelbaum,
Andre Nemec

Sander Stern
February 26, 2000
81
4-13
Gifted
Gary must teach a girl that her clairvoyance is a gift.

Dianne
Messina Stanley,
James Stanley

Kevin Dowling
March 4, 2000
82
4-14
Performance Anxiety
When another recipient of tomorrow's news stops receiving his paper, he steals Gary's.
Doris Egan
Gary Nelson
March 11, 2000
83
4-15
False Witness
Gary lies to help Miguel's brother, whom he has caught stealing cars, but later questions his decision.
Eric Tuchman
Ian Barry
March 25, 2000
84
4-16
The Play's The Thing
Gary gets bit by the acting bug when he makes a routine save at a small theatre... whom should he run into but Crumb.
Michael Katz
Deborah Reinisch
April 8, 2000
85
4-17

Blind Faith

Gary temporarily loses his sight in an accident and must rely on instinct to rescue a 9-year-old boy.

Jeff Pinkner

Jim Quinn
April 22, 2000
86
4-18
Occasionally Amber
Gary finds himself torn between trusting his best friend's fiancee-a former con woman-or telling Chuck about her past.

Lawrence Myers

Kyle Chandler
April 29, 2000
87
4-19
Mel Schwartz, Bounty Hunter
Gary must keep rescuing an accountant who is determined to become a bounty hunter.

Alex Taub

Todd Pfeiffer
May 6, 2000
88
4-20
Time
Gary discovers that Lucius Snow saved his life when he was 11 years old.
Karla Kettner
Mel Damski
May 13, 2000
89
4-21
Everybody Goes
To Rick's
Gary finds himself in 1929 trying to save a man from the St. Valentine's Day massacre.
James Stanley,
Dianne
Messina Stanley,
Lorin Wertheimer
Gary Nelson
May 20, 2000
90
4-22
Luck Of The Irish
Gary is cursed when he refuses further service to an elderly Irishman, which affects the life of a lovely immigrant. Gary's mother thinks he's engaged.