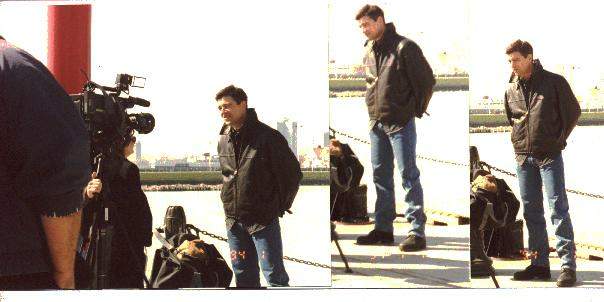 Kyle on the Navy Pier taken durng the filming of Play It Again Sam episode of Early Edition. Taken by Jan. CLICK on the picture to go to the Autographs Page and see a picture of Jan and Kyle.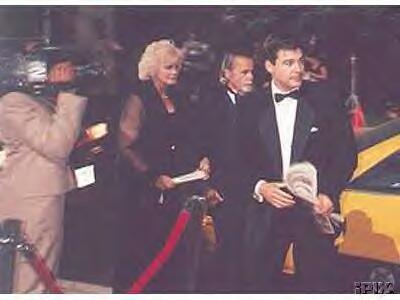 Taken by an extra during the filming of EE episode 'Saint Nick'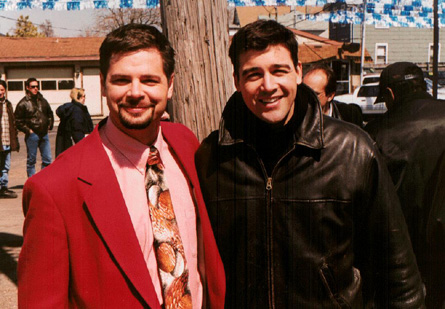 Kyle and Chicago dj Mancow taken when he was an extra on the EE episode Home Groan.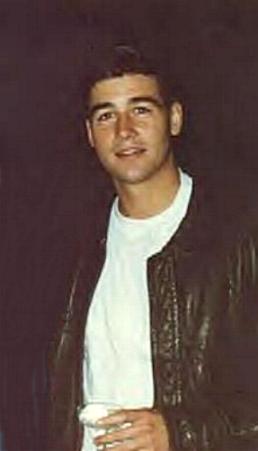 Kyle in 1992 when he met Jackie Collins on the set of her TV Mini series.
In the second season of Homefront, a friend was directing the mini-series version of Jackie Collins' Lady Boss. As Jackie was a huge fan of Homefront, and of Jeff and Ginger in particular, my director friend devised a plan to cast Kyle and myself as hit men in a cameo with no dialogue and disguised. We filmed our cameo with Jackie on the set not knowing who we were. I wore a black wig and Kyle wore glasses and a hat. When we finished filming, we walked over to Jackie and introduced ourselves. She was shocked and delighted and we were in Lady Boss as hit men. Very few people knew at the time. The network was a little nervous about Jeff and Ginger carrying weapons. As we were disguised somewhat this was fairly easy even though there were a couple of leaks at the time. -- Tammy Lauren


To see the full picture of Kyle, Jackie Collins and Tammy Lauren CLICK on the picture of Kyle to go to the Official Tammy Lauren Website. A special Thank You to Tammy for sharing this photo and story with us.